Lessons For Beginners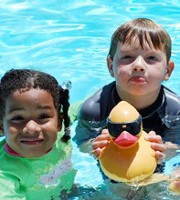 Susan begins working with children as early as 3 years old to introduce them to the water. She uses a psychological approach that helps each child/adult to overcome their fears of the water and gain a confidence that will be the foundation for a life long love of the water.  Whether the swimmer is new to the water, fearful, or has been unsuccessful elsewhere, Susan can achieve extraordinary results in a very short period of time. All instruction will be taught in a loving and positive spirit.
Some of the Areas She Will Cover Include:
Submerging the Face &
Entire Body
Blowing Bubbles
Rhythmic Breathing

Floating
Kicking & Use of the Arms
Freestyle/Dog Paddle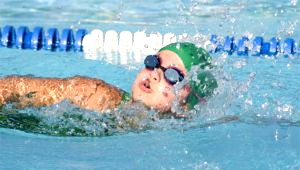 Adults can also learn to swim at any age—it just requires desire and a sensitive, experienced instructor. Susan has a great deal of combined experience teaching fearful adults and children while focusing on breathing and relaxation techniques that make learning to swim enjoying and fun!
Lessons for Intermediate Swimmers
Susan focuses on the fundamentals a swimmer needs to achieve their maximum potential. Acquiring the proper skills at any age can make for a positive and enjoyable swimming experience.
Areas She Will Cover for the Intermediate Swimmers Include:
Relaxation
Proper Breathing Techniques
Proper Body Positions

Fundamentals of Freestyle & Backstroke
Beginning Diving

*Butterfly & Breaststroke When the Swimmer is Ready
Lessons for Advanced Swimmers
Upon attaining a certain level of mastery of the intermediate skills of swimming, Susan helps swimmers perfect their techniques and begin to build their swimming endurance. Swimming is an excellent form of exercise and is one of life's most rewarding and important experiences. In addition to the safety benefits of water safety, improved swimming ability will enhance a swimmer's self esteem, build self-confidence, and set him or her on a path of lifetime mental and physical well-being.
[Image credits: Mark Spencer, julianne villaflor]
---
Contact Susan today for more details on her swimming lessons. Our
well-trained swimming instructor in Palo Alto, California, has the
skills and knowledge to help you become a stronger swimmer.