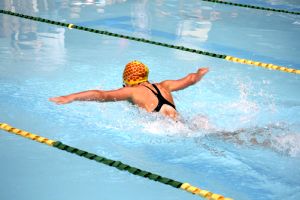 Whether you need assistance with a weight loss program, swim conditioning, or simply want to maintain or improve your overall health, Susan's personal swimming training program is your means to effectively achieve your goals.
Susan can provide quality swimming instruction and motivation for goal attainment; easily accommodating the needs of many individuals. Susan can work with you to design a program that is tailored to meet your personal swimming goals and interests. Swimming is one of the best forms of cardiovascular conditioning whether you are recovering from an injury or injury-free.
[Image credits: Miss Messie.]
---
Contact Susan today for more details on her personal training swimming
program. Our well-trained swimming instructor in Palo Alto, California, has the
skills and knowledge to help you accomplish your fitness goals.