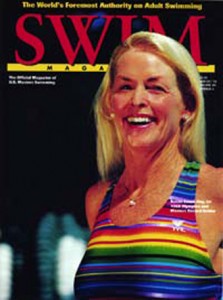 Susan grew up in Palo Alto, California and submerged herself into competitive swimming at the age of 8 years. Her love of the water completely took over her life and by the age of 12 years old she dreamed of being on the US Olympic Swimming Team. In 1964, Susan swam in the finals of the US Olympic Team Trials in the 100 meters Breaststroke. In 1966, she set a World's Record for the Women's 110 yards Breaststroke in Vancouver, Canada. However, it was in 1968 that Susan finally fulfilled her dream making the US Olympic Team, swimming the 100 meters Breaststroke in Mexico City.
Susan graduated from UCLA with a B.A. in Political Science in 1971. Shortly after her graduation she realized that swimming was what she enjoyed most and she began pursuing her career and professional life teaching others to swim. In 1975, Susan returned to her hometown and took a full-time position as swim coach and Aquatic Director of a local Country Club in Portola Valley, CA.
She resumed her competitive swimming career in 1976, swimming in the US Masters program, competing in her specialty, the 50, 100 and 200 yards/meters breaststroke. Susan married and raised four sons who all learned to swim at a very young age. They all became competitive swimmers and swam under her tutelage as swim coach at local Country Clubs.
In 1988, Susan started her own swim school, The Susan Roy Swim School in Los Altos, CA. As her sons were growing in their swimming skills and abilities, they all began teaching swimming lessons with her. The Susan Roy Swim School became a small family business for many years. Hundreds of children and adults learned to swim under her and her four son's skilled instruction and love for the water.
The family business has now broadened to instruction by Susan, at local Country Club pools that can benefit the competitive swimmers who require a 25yard pool. Susan also travels to "home pools" and gives instruction privately and personally.
Susan continued to compete in US Masters Swimming for 25 years through 2001. She held American and World Records in the Breaststroke events for all distances, 50/100/200 yards/meters throughout the 25 years that she competed. She has taken her own love of competitive swimming and now enjoys training others to compete and become better swimmers.
Being able to share her passion and love of the water with others has been a great joy in her life. Having the opportunity to promote water safety and instill a love of the water in others continues to be a wonderful privilege she enjoys. Swimming is an exercise that Susan has been able to continue to do throughout her life and she takes great pleasure in being able to help others learn this lifelong exercise.
---
Contact Susan Jones Roy Swim Instruction in Palo Alto, California, for more
details about the background of our experienced swimming instructor.