Now's your chance to learn to swim. Learning to swim is one of life's most rewarding and important experiences. In addition to the safety benefits of water skills, swimming ability will enhance a child's or adult's self esteem, build confidence, and set him or her on a path of lifetime mental and physical well-being.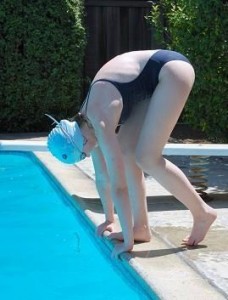 Susan's program works because she uses a psychological approach that helps each swimmer to overcome his/her fears and to gain a confidence that will be the foundation for a lifetime love of the water. Susan not only teaches swimming skills, she instills the courage and desire to use those skills and be successful!
1968 Olympic Swimmer Susan Jones Roy has spent her lifetime in and around the water as an Olympic competitor, Master Swimmer, instructor, coach, and mother of four sons.
Susan Will Help Everyone Learn to Swim Better
Beginning Swimmers
Intermediate Swimmers
Advanced Swimmers
Competitive Swimmers
Recreational Swimmers
Master Swimmers
Triathletes
Want to Swim More Powerfully?
Whether you're a recreational or competitive swimmer, a triathlete, or somewhere in-between, chances are that you could benefit from Susan's swimming instruction. She focuses on your breathing skills to positively affect your endurance and overall enjoyment of the water.
If you tire after swimming a few laps or a few minutes, you're most likely breathing incorrectly or inefficiently. With a few lessons, Susan can equip you with the knowledge and skills to improve your experience in the water.
---
Contact Susan today for more details on her swimming lessons. Our
well-trained swimming instructor in Palo Alto, California, has the
skills and knowledge to help you become a stronger swimmer.